Tandem
skydiving
The most beautiful way to discover the feeling of free fall!
Supervised by a team of state-certified instructors, you will experience a pure moment of freedom and adrenaline.
Birthdays, weddings, childhood dreams or just curiosity, all reasons are good to take a tandem jump.
Book a jump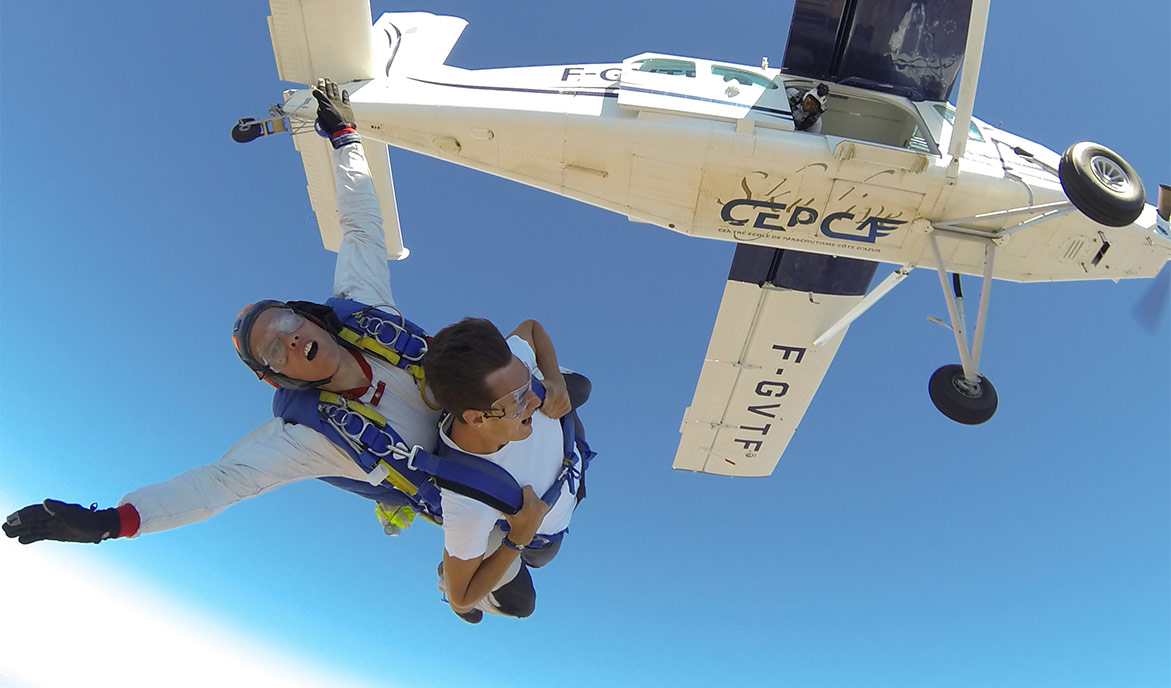 Before the jump, your instructor briefs you on a few important elements such as the position to adopt at the plane door, during the free fall and for landing.
All you have to do after is very easy: smile, open your eyes and enjoy this exceptional moment. From the sky of the Cannet des Maures you will enjoy an exceptional panorama, you discover the coast and its surroundings as you would not have imagined.
Good to know / Prerequisites
Be over 15 years old on the day of the jump.
Weigh less than 90kg.
You will have a regular breakfast/lunch and will be in shape on the day of the jump!
The plane takes you to 4000 meters in 15 minutes. Attached to your instructor, you free fall about 50 seconds at 200 km / h. At 1500 meters, the instructor opens his parachute and then begins the circuit under canopy before landing gently. If you feel like it, you can even pilot the canopy and make the most of this exceptional moment!
Capture your tandem jump with a video! From the ground briefing to the landing, including the climb to 4000 meters and the jump of course, everything is filmed by a professional videographer, holder of a professional qualification certificate (CQP). He accompanies you from the beginning to the end of your adventure to produce a a video edit that you will watch afterwards hundred of times and that you can share on Social Media!
Get the video of your jump